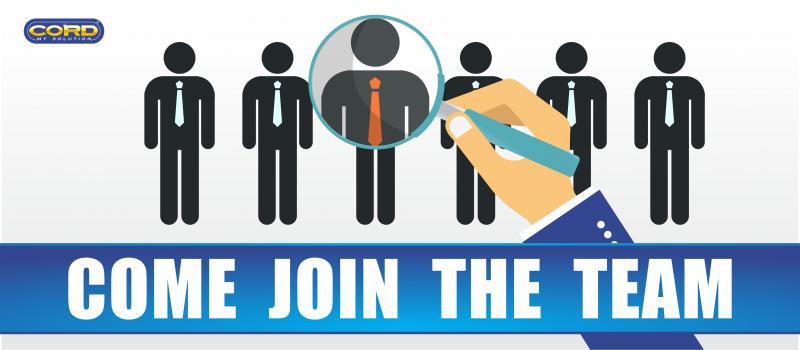 Cord Chemicals, Inc. is a leading manufacturer of adhesives, sealants, and industrial paints in the country. We need highly talented individual to fill its vacant positions. Successful applicants shall receive a competitive salary and benefits package such as sick leave, vacation leave credits, hospitalization benefits, accident insurance and bonuses of more than 13th month pay. The company invest heavily in employee development programs and career advancement of its employees. It takes pride in its highly dynamic culture, which promotes workforce diversity, innovation and participation of employees in decision making process.​
Email us: marketingp101@yahoo.com  |  cordchemicalsinc@yahoo.com or
Visit us: 152 Lopez-Rizal, Mandaluyong City. Tel: (632) 532-5287  |  531-1175  |  534-6436  •  Fax: (632) 531-4747
---
SALES AND MARKETING DEPARTMENT
 Sales Representative (Davao, Cebu, Panay, Metro Manila, South Luzon, North Luzon) 
Incharge and responsible of meeting Sales and collection quota in the area assigned

Maintain good business relationship with current customers

Find new customers to serve

Participate in events the company may have in the area

Monitor Merchandising assigned to the Area

   
Industrial Sales Representative (Luzon, Metro Manila, Visayas, Mindanao)
Maintaining current business relationship with existing accounts

Look for new clients / new leads

Handle Product presentation

Monitor Project progress

Prepare required reports
Trade Marketing Specialist
Responsible to build and maintain relationship with new customers

Can make field audit reports based on the area  visited relevant to the business
          Sales Secretary
Handle Inquiries of Customers over the phone or walk-in

Will be trained regarding company products and must have good understanding

Coordinate Deliveries and Inquiries of Salesman to the corresponding Department

Check Sales Orders and encode.
        Credit Verifier
Monitor Incoming Sales Orders

Verify accuracy of incoming Sales orders

Fix issues of Sales Orders that have mistakes through the proper channels

Process sales orders that are correct

To be trained to learn - Company Products and Policies

Not shy to talk to customers over the phone on a daily basis

Patient and respectful with customers
---
ADMIN AND HUMAN RESOURCE DEPARTMENT 
        Compensation Benefits HR Staff II
Handle government compensation and benefits (online and if needed to do personal filing)

Time keeping Billing of Agencies, Time keeping of Employess (download from Biometrics)

Collect time cards

Assist employees for SSS, Phil Health, Pag-ibig issues
---
ACCOUNTING DEPARTMENT
         Accounting Staff - Reconciliation Specialist
Reconciling Expenses Documents

Data Analysis of Documents

Resourceful to investigate documents and data are TRUTHFUL, REAL, ACCURATE AND NOT FALSE
         Financial Analyst
Tasked to check all expenses of the company  from liquidation documents

Resourceful to check on the accuracy of the expense

Computer literate

Above average accounting skills
         Auditor
Know auditing theories in practice and make reports

Must be honest and accurate in their work
         Accountant
Know all facets of accountings

Reconcile and audit documents

Account payable -- Manage Expenses of constrcution project

Can do physical inventory
Field Collector
Can Travel Nationwide

Reponsible to going to customers in field to counter or collect

Checks the check payment details are collect from client

Immediate turn over of payment to cashier

Can follow travel itinerary
---
WAREHOUSE AND LOGISTIC DEPARTMENT
          Truck Driver
Must have License of 1-2-3

Must be Physically fit to drive around the Philippines to deliver our products

Experience driving a truck and doing delivery

PHYSICALLY FIT / HEALTHY
---
SILANG PLANT
         Material Planner II
Responsible to ensure materials are available for production

Practice FIFO on all goods

Monitor stocks and know when its time to replenish

Finished Goods or Products are available for delivery to customers
         Production Line Leader
Physically Fit to work at a Production Plant

In charge of watching, monitoring and assisting that the designated line area produces required output as need by the supervisors
         Warehouse Office Staff
Physically Fit to work at a Production Plant

Monitor Packaging Materials and Raw Materials

Follow FIRST IN AND FIRST OUT

Handle inventory Count

Process documents (fill up forms) of items brought in and out of the warehouse

Accept deliveries when needed
         Company Nurse / HR assistant for Silang Cavite
Must be able to work in Planta setting

When your nursing services will not be in used, you shall handle HR matters

​Monitoring of attendance

Circulating Memos

Relevant Office work
---