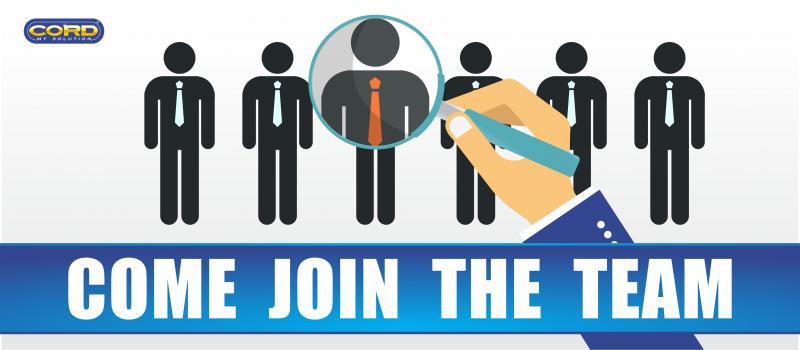 Cord Chemicals, Inc. is a leading manufacturer of adhesives, sealants, and industrial paints in the country. We need highly talented individual to fill its vacant positions. Successful applicants shall receive a competitive salary and benefits package such as sick leave, vacation leave credits, hospitalization benefits, accident insurance and bonuses of more than 13th month pay. The company invest heavily in employee development programs and career advancement of its employees. It takes pride in its highly dynamic culture, which promotes workforce diversity, innovation and participation of employees in decision making process.​
Email us: marketingp101@yahoo.com  |  cordchemicalsinc@yahoo.com or
Visit us: 152 Lopez-Rizal, Mandaluyong City. Tel: (632) 8532-5287  |  8531-1175  |  8534-6436  •  Fax: (632) 8531-4747
---
SALES AND MARKETING DEPARTMENT
Sales Representative (Davao, Cebu, Panay, Metro Manila, South Luzon, North Luzon, CAMANAVA, Western Visayas, Leyte, Bicol Region, Negros Area and Zamboanga) 
In charge and responsible of meeting Sales and collection quota in the area assigned

Maintain good business relationship with current customers

Find new customers to serve

Participate in events the company may have in the area

Monitor Merchandising assigned to the Area

   
          Territory Sales Supervisor
In charge of visiting customers and looking new customers

Generating Sales and Collection for the Company

Must learn Products of the company

Follow the rules, regulations and policies of the company

Willing to work in NCR North & South Luzon, Visayas or Mindanao.
Field Merchandiser (NCR, Mindanao, Visayas - Cebu Based)
Work us Monday to Sunday with a Rest Day

Will be in visit customers and give information of the Products 

Must be accommodating to the customers

Must be confident to talk to customers

Willing to be trained

Can show up to work on time
         HR Supervisor for Sales Department
Administers human resources programs and policies relevant to sales personnel...

​Including staffing: such as end to end recruitment

Employee relations

Training

Policy Implementations

Ensure human resources strategies align with organizational business goals.
          Marketing Assistant with Sales Experience
Provide General Assistant to buyers

Assist in Marketing Activities and Research
          Marketing Officer
Handle merchandising staff

See they meet their deadline

People management of merchandising staff

Know company products
          Retails and Distributor Coordinator
Willing to take responsibility to:

​Monitor Merchandising Team

See that team does proper Sales/Product Distribution

Be sure the Team can to create demand and product awareness

Spot Inventory

Orient Frontliners

Coordinate with HR

Monitor Teams Schedule
           Distributor Specialist
Maintain and develop distributors in territory

Develop Sales Representative of Distributors through work with training and regular evaluation

Analyze sell in and sell out of distributors

Implement key strategies including sales and marketing programs to achieve growth targets
            Account Developer
Analyze and Understand the customer needs and trends to help the customer grow their profitability

Maintain appropriate inventory levels promotional material, add signage and displays

Ensure each account has the proper product needs and timely replenishment of orders

Communicate and collaborate with the account activities for their customers

Mapping trade prospect
---
ADMIN AND HUMAN RESOURCE DEPARTMENT
          Admin Staff for Cebu City - Immediate Hiring
Work is at our Mandaue Based Warehouse

Coordinate with head office based in Manila regarding deliveries

Handle Billings such as Electricity, Water

Can Follow instructions given over the phone

Willing to travel to Manila for Training if needed
          Executive Assistant
Shall be working for the Vice-President Office

Physically fit to do errands such as pay bills and pick up letters

Know how to renew Business Permit at the Municipio

Can call suppliers to inquire or report issues

Can do Administrative work

Write memorandums and reports after meetings
          HR Assistant
Schedule applicants for interview

Handle initial interview and initial exam

Handle follow up of candidate for on boarding - such as follow up documents of NBI, Police Clearance.

Can do background check on qualified applicants

Basic Administrative work
          HR Recruitment Specialist
Handle end to end Recruitments...

​Identify positions the need to be filled 

know the requirements of the position

Handle Sourcing the 2019 Way

Schedule Interview

Administer Exam

Handle Interview

Background Checking

Offering to Candidate

See Candidate Complies

Handle Orientation and Complete on Boarding
          HR Legal Supervisor
As a legal and HR Supervisor you shall be responsible for...

​Legal Aspects

​Contract Management

​

DOLE issues

Coordination with Lawyers

Going to court hearings

Human Resources

​Counselling of employees

Writing of memorandums

Being aware of new laws given by the DOLE and all other government agencies

Seeing all employees accomplish their duties

Organizational Management

Requirements

​Preferably a Law Graduate

Relevant Experience of No less than 5 years

Can work Monday to Saturday

Willing to Travel around the Philippines

Skills

​Hardworking 

Trustworthy

Goal Oriented

Can work with Minimal Supervision

Familiar with DOLE rule

Excellent Oral and Written Skills

People Person
         HR Admin Supervisor
Can Multi-task between Human Resources and Admin work for the company

Experience with Human Resources Related work

Comprehends all facets of Human Resources

Implement Company Rules, Regulations and Policies

Familiar with DOLE rules
           Cleaner - Janitress
Responsible for keeping office clean and tidy
           Admin Messenger
Responsible for

​Keeping Office Clean

Checking Cleaning supplies are complete

Purchasing Office Supplies

Do errands around Metro Manila such as bringing mail, buying items needed by the office

Switching on aircon daily

Willing to do other work as needed for the Admin Department
           Utility Man (Handyman)
Relevant experience in handling utility problems of a building such as change of lightbuld and starter, cleaning of electric fan

Know basic plumbing (tubero) and electrical skills (can change sockets)

Must be physically fit to do errands or field work to source out replacement parts

Basic Computer skills can be a plus for monitoring work progress

Can come to work on Holidays if needed for repairs

Monitor inventory of consumables such as light bulbs, starters, faucets

Do basic cleaning when needed
          Building Maintenance Technician
Preferably with previous work experience

Must be a multi-skilled technician for basic troubleshooting

​

​Electrical

Carpentry

Plumbing

Masonry
---
ACCOUNTING DEPARTMENT
        Accounting Supervisor
Handle and Monitor the liquidation and company expenses

Prepare report on expenses

Analytical work on the data numbers

Assist the Accounting Head

Knowledge in Basic Bookkeeping 
         Accounting Staff - Reconciliation Specialist
Reconciling Expenses Documents

Data Analysis of Documents

Resourceful to investigate documents and data are TRUTHFUL, REAL, ACCURATE AND NOT FALSE
          Accounts Payable Officer
Responsible for (but no limited to)

​Check Preparation

On Time scheduling of Payments

Filling up the  forms accurately

Cashiering work

Collecting Proper Documentation

Assisting the treasury Manager
---
WAREHOUSE AND LOGISTIC DEPARTMENT
           Office Staff
Must know how to use MS Word and MS Excel

Can type and encode fast

Answer Phone and can handle scheduling

Hardworking, willing to learn and has initiative
          Delivery Driver Based in Cebu for Visayas Area
Must have License of 1-2-3

Must be Physically fit to drive around the Philippines to deliver our products

Experience driving a truck and doing delivery

PHYSICALLY FIT / HEALTHY
---
SILANG PLANT
           Chemist 
Responsible in quality control of product production from start to end

Follow company implemented procedures

Requires lab works and or work on the production floor
          Quality Technician
Shall be responsible for conducting testing procedures during manufacturing processes to ensure that products comply with quality standards

Comply with quality standards of the company

Make proper reports
         Material Planner II
Responsible to ensure materials are available for production

Practice FIFO on all goods

Monitor stocks and know when its time to replenish

Finished Goods or Products are available for delivery to customers
         Production Staff
Must be physically fit to work in a manufacturing plant​

Work is for production around the plant area

Production floor

Packaging

Warehouse

Filling
---