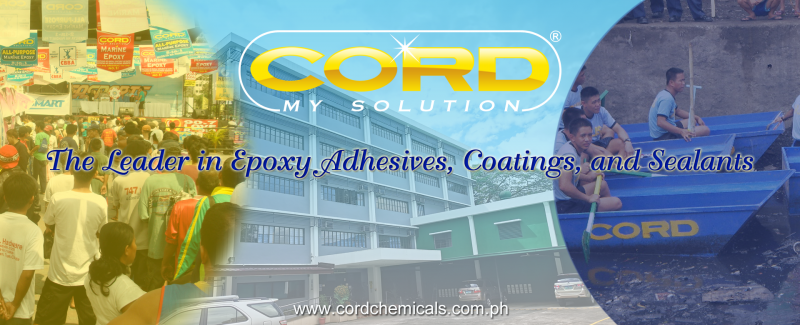 ---
CORD Chemicals, Inc. pride itself as a recognized industry leader in the field of adhesives, coatings, and sealant established on July 7, 1977. From its humble beginning in Samat Street, Mandaluyong City, the entrepreneurial endeavor become one of the biggest manufacturing company in the epoxy industry. The company was the first to develop and introduce the CORD MARINE EPOXY COATING SYSTEM, the first comprehensive protective coating system designed specifically for harsh marine conditions.
CORD Chemicals, Inc. has been at the forefront of the adhesives, coatings, and sealants industry. It is active in the design, manufacture, and marketing of products that better the lives of Filipinos. From a simple repair of broken cup handle to the construction of major infrastructures, CORD has innovative products intended for specific type of consumers. CORD today is the largest importer of raw material for epoxy resins and is the largest manufacturer of epoxy-based products in the Philippines.
CORD takes high regards of its products and its performance. We make sure that every product we serve delivers high performance solutions for both channel partners and consumers. CORD ensures optimum business performance and a good return-on-investment.
CORD makes products accessible not only to the general consumer market but also to a wide variety of industrial consumer segments that include Maritime, Construction, Manufacturing, Food and Drugs, Automotive, and Infrastructures. It took part in projects where only few dared to stake their reputation. Its commitment to high performance and excellence made CORD Chemicals, Inc. the only local company that can compete directly with foreign companies in supplying epoxy-based products.
---
CORD products reach consumers through a wide network of channel partners nationwide. From its head office in Mandaluyong City, CORD's innovative products head out to retail outlets in different parts of the archipelago. CORD has established its manufacturing plant in Cavite and regional branches in the Visayas and Mindanao. The company operates through its core values of integrity, professional accountability, customer-centric, excellence, hard work, discipline, and teamwork.
OUR GREATEST ASSET: PROFESSIONAL ACCOUNTABILITY
---
CORD pursues an aggressive marketing program using tri-media advertising tools and below-the-line campaigns. We develop and produce various communication campaigns in television, radio, print, and digital media to reach a wider audience and create a variety of merchandising materials and collaterals designed to reach our trade partners and end-users.
Our professional team maintains close coordination with various industries like shipbuilding, construction, and infrastructure to provide CORD's more than forty years of expertise. We assist customers in securing tailor-made and simplified solutions designed to enhance their business. CORD's technical assistance is present from start and until the job is completed.
CUSTOMER-CENTRIC: THE CORD WAY OF BUSINESS
---
CORD treats the customer as the most important stakeholder in the company. It aims to build long-term partnerships with them. It is our mission to attain true business growth by providing our customers with only technologically superior products and services that help them better their lives and businesses. The research and development program of CORD Chemicals, Inc. continuously introduces new and innovative products onto the market to meet the ever changing needs of our consumers.